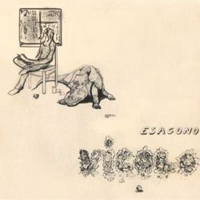 The debut album from this Italian band.
The band was a quartet with a lineup of cello, flute, piano, elctric piano, synths, bass, drums and percussions. About ten guest musicians supplied guitars, woodwinds and vibraphone.
Esagono was formed when Arti E Mestieri broke up after two albums. Then the band reformed again after Esagono had released this album and Esagono became surplus to requirement. Their next album, called 2, was released in 2007 and their final album Apocalypso was released the year after. Arti E Mestieri is still active, btw. Errate Corrige also supplied members to Esagono.
A stop gap band or a splinter group, you can call Esagono whatever you want.
This almost forty minutes long album is a jazz album more than a fusion album. There are some references to Soft Machine here and some other references to Arti E Mestieri. But the music here is much more hardcore jazz.
It still have a lot of the drive from the fusion genre. But not much rock and/or progressive rock.
The album starts out with some pretty fancy tracks before it turns a bit more jazzy and introvert. There is a lot of flutes and woodwinds on this album. Both are the driving force on this album. The flutes also gives this album a bit of a fusion sound although the music is jazz.
The stuff here is good throughout. The tracks are pretty good and the woodwinds and flutes adds a lot of quality to this album. And so does the electric piano. This is perhaps not the most exciting jazz album around. But it does deliver a punch and that is what I like about this album.
3 points