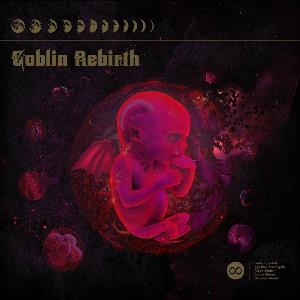 The debut album from this Italian band.
As you may have noticed, this is a kind of a rebirth of Goblin. One of four constellations named after or named Goblin at the moment. Then you have other bands who operates more or less as Goblin copycats.... I think it is fair to say that Goblin is very popular these days. And why not ? They deserve it. But perhaps as a less fragmented band as they are now.
Goblin Rebirth is the rhythm section of Goblin going on their own with three other members. Yes, that is Agostino Marangolo and Fabio Pignatelli with a guitarist and two keyboards players.
The music is instrumental throughout with a couple of pastoral voice parts with no spoken vocals. And yes, this music is somewhere near Goblin territory.
Somewhere near because the music is more majestic and more symphonic than the usual Goblin soundtrack. In this respect, this album reminds me a lot about the last album with the Goblin name, the Four Of A Kind album from 2015, the same year as this album was released. Both albums included Agostino Marangolo and Fabio Pignatelli too... No, I don't understand.
This album is not a soundtrack album. It is a forty-four minutes long album who stands on it's own two feet. Both feet are firmly planted in the Goblin tradition and fans of this band will love this album. And with good reasons.
There are a lot of dark and brooding music here. But not as dark and brooding as expected. This album is the more lighter and positive feelings Goblin associated albums I have ever heard. The emphasis is on symphonic and majestic music. Not so much as frightening the life of the listener.
It is dark enough to nicely fall into the Goblin tradition.
There are some really very good stuff here and some good stuff here. I regard this as a very good album and wonder if this band will return again with another rebirth album.
3.5 points