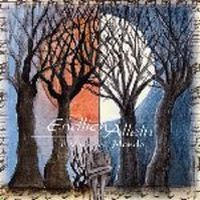 The one and only album from this Italian band.
Nothing is known about this band. No lineup and no names. Even their page at
Mellow Records bandcamp page
is bare and has no information except from the information their record label Mellow Records has copied from
ProgArchives
(!!).
From what I hear, we are getting guitars, keyboards, bass, drums and Italian vocals here.
Their name sounds a bit German to me. I first thought this was a krautrock album as it was included in a krautrock box I bought years ago. Well, the seller was wrong.
What we get here is mellow neo-prog from the 1990s.
All songs are well below the five minutes mark and they are all connected with some short acoustic guitars interludes. Just like the black metal bands did at that time..... I guess this was something "clever" bands did in the 1990s.
The vocals are pretty good. The electric guitars are pretty poor with a bad sound which adds aggression to melodies who are not aggressive or hard at all. Not a good idea.
The songs are all decent enough. Ditto for the sound. It is fair to say that these forty-five minutes is not particular interesting or exciting. Nothing here really strikes me and I can understand why the life went out of this band after this album. There is not much quality here.
Those who collect Italian progressive rock, like myself, would like a copy of this album. But just under the understanding that not everything that comes from Italy is great.
2 points