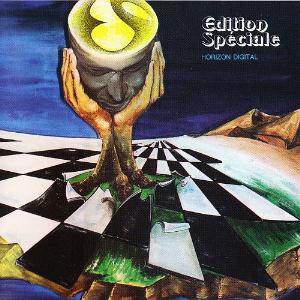 The third and final album from this French band.
Please note that this is a review of the original thirty-seven minutes long album where the five bonus tracks on the Musea CD album has been omitted from the review.
The band was a five piece band on this album with a lineup of vibraphone, bass, drums, marimba, percussions, keyboards, guitars and vocals. Both male and female French vocals.
The band returned again with the follow up to the rather good Aliquante album. The band had again moved on from that album again and had embraced a music where half of the tracks was instrumental and the other half was vocals driven music.
We are still in the middle of French fusion land. Most of the music is fusion and they are sailing pretty close to Weather Report at times. The music is full of colours and life. Very dynamic too.
The vocals, and Ann Ballester had taken aboard the criticism from their first album and learn from it, is now very good at times. Excellent comeback by Ann Ballester. It warm my heart.
The vocals tracks are still in the fusion tradition with some xtra heavy influences from the likes of Gong and Gentle Giant. These tracks are also very funky and a bit dadaism is running through them... and the fusion tracks.
This album is very much a playful album which really needs some more attention. Attention hereby given as this is a good album which will find a lot of loving owners and fans if given the chance.
3 points