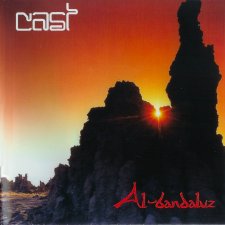 The eleventh album from this Mexican band.
Cast was a five piece band on this album with a lineup of guitars, bass, drums, keyboards and Spanish vocals. Guest musicians contributed with xtra vocals, woodwinds and flutes.
This is a double CD album, lasting close to one hundred minutes. A hugely ambitious project. The type of projects the likes of Cast and their brethren in The Flower Kings undertook on a regular basis.
Both bands are symphonic prog bands and their motto seems to be "excess all areas". That is my personal motto too, btw.
You really have to be on the mark with one hundred minutes to fill with your music. In particular when you as Cast has released albums on a very regular basis. Long albums too.
The album starts with a long symphonic bombastic hard rocking piece before the vocals chimes in and we the music becomes a bit more melodic.
There is a lot of guitars and keyboards interludes on this album. There are also some sporadic vocals too. Most of this album has a bit of a rock opera feel. It also has a Mexican and Italian pop music feel with some ballads like songs.
This album ranges from bombastic hard rocking stuff to more pop and quiet rock. But it is always within the symphonic prog genre. The music is also very Italian symphonic prog throughout.
The quality is not great as the band is not really sparkling here. But this is a good album with one hundred minutes of good stuff throughout. It is well worth checking out this album.
3 points