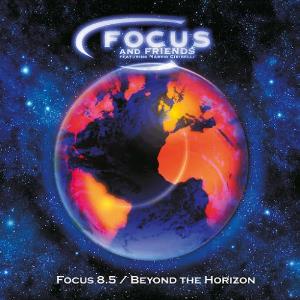 The thirteenth album from this Dutch band.
Pierre Van Der Linden (drums) and Thijs Van Leer (flutes, vocals and organ) gets help from their other tour members Jan Dumee (guitars) and Bobby Jacobs (bass) on their South American tour where they also get substantial assistance from the ..And Friends element of this album title. Three friends on female vocals, saxophone and drums.
This album was recorded in South America inbetween the gigs on that continent. No sightseening and no treks up the Amazon forests, then....... Maybe next time, guys ?
No cuddly-cuddlies with the piranhas in the Amazon river means forty-six minutes off music. It is pretty obvious that their friends down there were jazz and latin rock musicians.
This album is good old Focus meets Latin-American jazz. The first ten minutes of this album is Focus rehashing Hocus Pocus again with the song Focus Zero. Please leave Hocus Pocus alone, guys. It is never good when you try to lure in potential record buyers with cheap tricks like this one.
Thijs shows up with a lot of flutes on the following tracks and this is good. A couple of tracks has been taken over by their friends as there is no Focus magic or even music here.
This album is a strange album by all means. Something the band, honest as they are, has alluded to by renaming themselves Focus And Friends. And this is good and all that. I do not doubt that the band has had a great deal of fun and satisfaction on this album. A new spring in your steps does not harm.
... Again, this is both a Focus album and not a Focus album. The music is not bad at all though. The fusion and jazz sounds a bit tired. But it is not bad at all.
I am landing somewhere between decent and good here. I still like this band a lot, though. Hamburger Concertos is still one of my alltime favourite albums. I owe Focus a lot of gratitude and love. That said.....
2.5 points