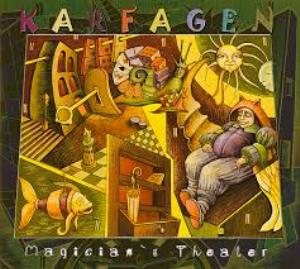 The seventh album from this Ukraine band.
Karfagen is the keyboardist Antony Kalugin's brainchild. He got nine other musicians here to help him out too. The lineup ranges from keyboards, guitars, bass, flutes, drums to woodwinds and strings. There is also some vocals here.
I have not really followed this band that closely because I am not that big fan of a mad professor and his keyboards bands from Europe. But Antony Kalugin proved my prejudices wrong on the 2009 album The Key To Perception. A truly great album.
So I am giving him and Karfagen another try.
This album is remarkable short. Fifty-eight minutes. Which means that they have got the message. Short is sometimes better than long. In most cases, that is the rule when it comes to albums like this.
Albums like this is in this case mostly instrumental. And it is divided into two acts. Act I and II. The music is a mix of folk music from Ukraine, symphonic prog and a lot of harder, more gothic rock. There are even some hints of RIO here.
The goth and metal thing is the thing I got most gripes with here. I am also missing the great melodies here. That said, this is a good album from Karfagen and one I pretty much like. Check it out.
3 points