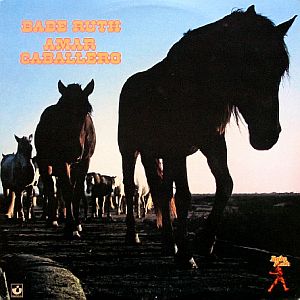 The second album from this British band.
Their 1972 debut album First Base is rightly regarded as a semi-classic album. It had a great mix of hard rock, southern rock, blues and progressive rock. I very much liked that album.
The band is a quartet on this album. The lineup is drums, bass, guitars, keyboards and female vocals. Janita Haan is again the vocalist here.
Where First Base was a solid unity of hard rocking music, Amar Caballero sees the band doing some experiements. In comes a lot of jazz and some ethnic music. Mostly South American folk based ethnic music.
The title track, which is a suite divided into three parts, sees the band branching out in all directions. But before that suite, we have got the usual fare of hard rocking stuff with some southern and blues rock.
This album is very much about pushing the envelope and is therefore pretty progressive. The vocals is a bit too forced and strained in my opinion. The hard rock here is good though.
This is a very brave....... and foolhardy album. An album which will not make the fans of the debut album scream in joy. It takes some time to really get to know this album.
Nevertheless; this is a decent album and one that may be worth checking out. Get it as a 2 for 1 CD together with First Base (as I did).
2 points