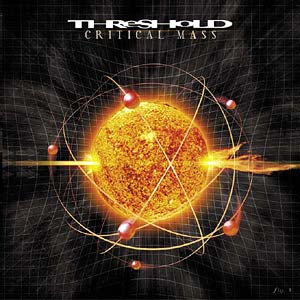 The sixth album from this British band.
The band returned to the studio again as a six piece and with a lineup of guitars, keyboards, bass, drums and vocals. Andrew McDermott was at the microphone and does a sterling job here.
The band has shown a great progression on their previous five albums. They had bettered themselves, album by album. They had also developed their very own style and sound.
Threshold has a sound and style which neither conforms with the prog metal scene or the neo-prog scene. They are inbetween those two genres. This explains their status as a cult band instead of a status of a best selling band.
Not even this album would change that.
Their 2001 album Hypothetical laid the groundwork for Critical Mass. An album which starts with some immediate great songs. They are great, but also bordering to cheesy. But the hooks and the choruses are great. This alone makes an album bordering to great.
The title track is fourteen minutes long and showcases a band pushing borders and the envelope. A great symphonic prog suite in a more prog metal and neo-prog sound.
The end result is a great album and their best album to that date. It is an album you should check out, from an underrated band.
4 points