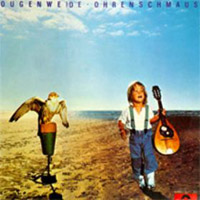 The third album from this German band.
Ougenweide was a six piece band with a wide variety of acoustic instruments. From flutes to instruments I have no clue what even is. The music is topped up by German vocals.
There is some instruments here which sounds like the classical and folk music sounded 200 - 400 years ago. Not that I was there. But I have heard some medieval music in my time and this album has a lot of that.
Ougenweide was trying to combine folk rock anno the 1970s and medieval music from hundreds of years ago.
And I have to say they have created a thirty-six minutes long album which takes us back in time. Not to the 1970s, but to the medieval times. That with a nice blend of folk music and folk rock.
Actually, I cannot remember that I have ever heard an album like this in my life. Lots of strings and lot of elegance.
The music is drenched in good melodies too. Which is very much helped by the elegant use of piano, flutes, strings and vocals. Both male and female vocals. Often in duets.
My only gripe is the lack of any great songs. Besides of that, this is a good album which will interest anyone into folk rock and progressive rock. I really like this album. A gem of an album.
3.5 points