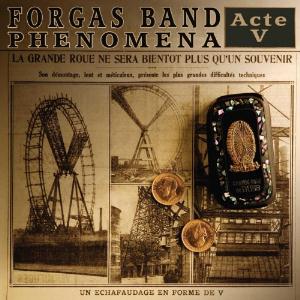 The fourth or fifth album from this French band.
Forgas Band Phenomena is a seven piece band with Mr Forgas, Patrick Forgas on drums. He is joined by flutes, woodwinds, bass, guitars, keyboards and violins.
I am not sure if this is the fourth or fifth album from this band. ProgArchives says four albums. The album title says five albums. I do not know.
I have heard about this band a lot and I have had this album in my collection from the day it was released. But it has been forgotten and misplaced during that time......
I bought the album because it was being compared to Soft Machine. I know now why.... This is a bit of Sixth with violins and trumpets. Lots of violins. Jean Luc Ponty comes as an obvious (cheap ?) reference here. But the band still sounds like Soft Machine from the Fifth to Seven album.
The music on this fifty-two minutes long album is entirely instrumental. It is medium intense where the violins is pretty much everywhere. The violins sounds a bit gypsy like. The music does not.
I don't rate this album as good as a Soft Machine album from their glory days. Their intensity is not here either. Nevertheless.......
This is a good album where my main gripe is the lack of any great melodies and details. But I cannot fault this album at all.
3 points