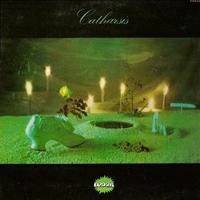 The fourth album from this French band.
The mastermind in and behind Catharsis, mr Roland Bocquet, got help from five other musicians on this album. The lineup was his farfisa organ, keyboards, bass, drums, percussions, charango, guitars and some female vocals.
The band is continuing down the same path as on the previous two albums. Dirge like music, in short. Dirge like krautrock, that means.
This twenty-eight minutes long album is more or less one twenty-eight minutes long piece of music. You get the farfisa organ with some female vocals, percussions and synths on the top.
The vocals is without any words. It is an instrument and that is it. The farfisa organ is very effective though and is carrying this album.
This album is almost like a religious dirge and has got almost a funeral dirge written all over it.
The music is actually pretty good throughout. This despite this being a bit too one dimentional for my liking. I find this album too dull and the sound is not the best either.
This is a decent to good album. It is still well worth checking out as this album brings something very different to a music lover's table. Something I have not heard anything like before. Check it out.
2.5 points