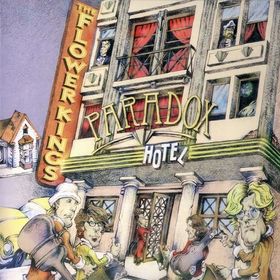 The ninth album from this Swedish band.
The Flower Kings has been one of the best progressive rock bands on this planet during the last 20 years. Their influence has been massive.
The band returned with their ninth album. A two hours long double CD album. The band was more or less the same as on the previous albums. Marcus Liliequist has taken over the drums from the previous occupant and the band has expanded to six members. That is the only difference.
The band still relies on a lineup of guitars, keyboards, synths, bass, drums and vocals.
The band is still very much based in the Swedish symphonic prog sound on this album. There is a small difference from the previous albums, though......
The music on Paradox Hotel is a lot darker than I am used to from this band. It is almost a bitter album where cynicism is the major factor here. This in the normal settings of the Swedish symphonic prog sound.
What is missing here on this album is some great songs. The songs are not up to the normal standard from this band. That is normally a very high standard. The band seems a bit dithering on this album and more based on expressing their dark side. That is more than giving us some great or even good songs. Or even melodies.
This album is a let down. It is barely a good album. But a handful of good songs and melodies saves the skin of this album. I am not impressed by this album.
3 points