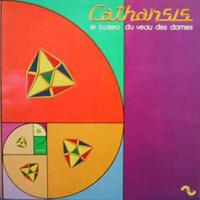 The fifth album from this French band.
Catharsis was again Roland Bocquet's band and he had help from three other musicians. He did the farfisa organ and the other tangents. His three companions did bass, guitars, drums and percussions. There are some sporadic vocals here, used as an instrument.
Catharsis is a strange band. It is also a unique band. Which is pretty much the norm for French band. France has and had a lot of one-band-scene bands with their own sound and music.
Individualism is and was a positive word in France. And I agree with that sentiment. Very much so. Hence, I am not turning down any French albums when I get the chance to review one. Me and this blog like France !
We are again in an instrumental landscape. This time a lot more with a symphonic prog touch than before. This is indeed their most symphonic prog influenced album.
There are some classical music influenced pieces here. There is also some psychedelic prog influenced pieces here. Symphonic psychedelic prog is what I am tempted to label this album as.
This thirty-two minutes long album is off course dominated by Roland Bocquet's farfisa organ. That gives this album and indeed this band it's very own sound and music.
There is a lot of mood, ambience, interesting details and good melodies on this album. An album not that overly exciting. But it still works and it is indeed a good album. An album everyone into.... well, who would be into this kind of music ? Well, everyone into progressive music will like this album. It comes recommended.
3 points