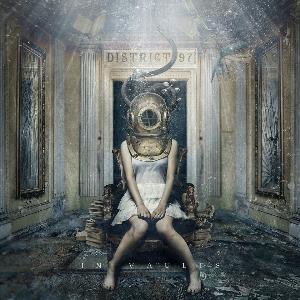 The third album from this US band.
District 97 is a five piece band with a lineup of guitars, bass, drums, keyboards and female vocals.
District 97 is also one of the better progressive rock bands in today's scene. Their outlook and sound is from the New York area. Their vocalist and main asset Leslie Hunt sounds like a New Yorker to me. A great and very cool sounding vocalist.
The music on this album is in the eclectic genre. Take the coolness of jazz and add neo-prog and some hard rock and symphonic prog to that mix. This album is also very American.
The whole sound and attitude of this album is very American. Big, brash and unrepenting what it is. There is a lot of this Greenwich Village mentality here too. This artistic feel no other nations does better than the Americans.
There is a lot of twists and turns on this one hour long album. An album who need a lot of time before the listener gets it.
There is a lot of twists and turns on each of these nine songs too. It is a bit of a wild ride with a mix of heavy riffs and more pastoral riffs.
What is missing here is a couple of great songs. I am a bit disappointed by this album as there is not much of good melodies or details here too. I will rate it somewhere between decent and good. But check out this album.
2.5 points