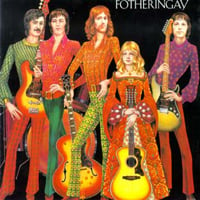 The debut album from this English band.
The second album was recorded in 1971 and meant for the release the same year. But Sandy Denny's solo plans changed that. She went solo and released a very good solo album. The follow up album, named 2, was released in 2008 to very good reviews. Unfortunate, Sandy Denny passed away long time ago.
Sandy Denny is still one of the most tragic passings and waste of talent the music scene has ever seen. Just listening to her voice and music makes me want to cry because of this gross injustice. Self inflicted injustice as Sandy Denny burned the candle at both ends and burnt out far too young.
The name Fotheringay is taken from a Fairport Convention song and the band is a splinter group of this band. I don't know why.
This album has got a mythological status. And that for some good reasons.
Sandy Denny's vocals is simply excellent on this album. Stunning. Out of this world. This is probably one of the best female vocals album ever to see the light.
She is supported by four other greats from the English folk rock scene too. Linda Thompson does some backing vocals too.
The music is melodic and pretty progressive folk rock. The music is a bit more progressive than the usual Fairport Convention fare and more focused on Sandy Denny's vocals.
The nine songs here are all good to very good. That is without Sandy Denny. But she adds the dot over the i and makes this a great album. Take away Sandy Denny and you still got a very good album.
If you only want one Sandy Denny associated or solo album; this is the one you need. This is also probably the best English folk rock album out there too. I am sold and I am hooked. This is a great album.
4 points