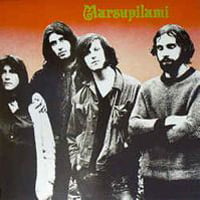 The debut album from this British band
This band released two albums before they broke up. They were a sextet with a lineup of bass, flutes, organs, drums, guitars, percussion, harmonica and vocals.
Listed as an Eclectic Prog band in ProgArchives, I approached this band with an open mind. A wise choice as this album has a heady mix of.....
Well, let's start with blues. That is their roots. Then take a lot from King Crimson, Gentle Giant and some of Genesis and Yes. I have heard they have been compared to East Of Eden. A band I have yet to hear a tone from. I would compare them to Gnidrolog though.
The flutes are everywhere and so is the heavy organs. The music is both complex and melodic. Eclectic, this album is.
There is a lot of very interesting details and melody lines here. The vocals is also very good. The flutes is sometimes off key as a sound effect. Very effective indeed. The guitars are sharp and to the point.
There is alot to enjoy here. Not at least the complex melodies. All of them based in heavy blues. All of them really tasty.
This is a good album from a band I have never heard about before. A good forty minutes long album. Check out this good album.
3 points