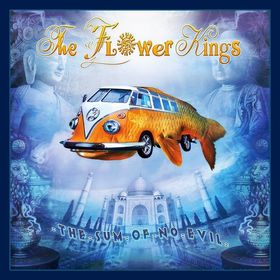 The tenth album from this Swedish band.
The Flower Kings is really legends in the scene. They deserve a lot of credit for the re-emergence of prog rock again after a long cold night without a lively prog rock scene.
The band is back again as a five piece band. Roine Stolt, Jonas Reingold, Tomas Bodin, Hasse Froberg and the new boy in the band; the drummer Zoltan Csorsz. A very vibrant setup and one of their best ever setup.
The band has also found a bit of a new life on this album. An eighty minutes long album.
The band is both looking back on their Swedish folk rock roots and is looking forward to new territories. A bit blues and harder rock has found it's way into the band.
This though is a pretty epic album with some very good epics. The twenty-six minutes long Love Is The Only Answer is a very good epic from this band. The opening song One More Time takes their fans back to their roots and their first albums again.
Not everything here is great. But those two epics are pretty much great. The album tails off at the end and becomes a bit lost in a landscape of epic complexity for the sake of epic complexity. The band looses their way a bit through that landscape.
The end result is a very good album from these masters of progressive rock. It is another album which has cemented their position in my house. Get this album.
3.5 points