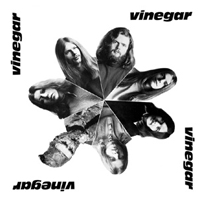 The only sign of life from this German band.
Germany = krautrock in most cases when it comes to the type of albums from the early 1970s you will find reviewed in this blog. I am not a big fan of the other German music-style from this era; the Schlager genre. So krautrock is what we get here.
Vinegar was a seven piece band on this album. Well, seven guys played on this album. You get Hammond organs, guitars, bass, drums and some vocals. That and sporadic violins and flutes. The music is pretty much a mix of blues rock, space rock, psychedelic rock and jam rock. In other words; krautrock. The sound is good and Garden Of Delights did a good clean up job on the 2003 CD version. The album is still only forty minutes long. In this case, I think that is long enough.
The quality of the songs here are not that good to be honest. The album is rattling along quite nicely. The vocals is very poor and the vocalist should had been banned from singing in public.
The end result is a decent album where Amon Duul II is a good reference. Check out this album if you want.
2 points