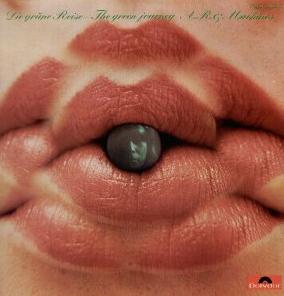 The debut album from this German band.
A.R is the initials of Achim Reichel, a pretty central figure in the German krautrock scene. This is his solo band. Or project if you want. Check out
Wikipedia
for more info about him.
This is a krautrock album through and through. It is a krautrock album at the more spaced out and avant-garde end of the scene. Take some psychedelic melodies, add a lot of guitar riffings from a half-acoustic guitar, some vocals, a lot of chants and bass plus drums. Then you get this album to a large degree.
No, this is not as bad as the Amon Duul albums which also followed that formula to a large extent. A.R & Machines is widely regarded as one of the best bands in the krautrock genre and I can understand why when I am listening to this album.
Yes, there is a lot of weird chants and melodies here. Achim's guitars is still the backbone of this album and is creating some hypnotic melodies and impressions. Hypnotic krautrock is the under-label of this music and rightly so.
I find myself really liking this album. An album with some great stuff and not so great stuff. This is a very good album indeed.
3.5 points