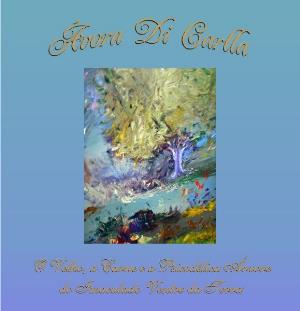 The debut album from this Brazilian band. An album with the longest album title and song titles I have seen. Don't make this a trend, please.
The band has gone all out to create a big piece of progressive rock too (which may explain why there are so few reviews of this album around). The music here combines old harder progressive rock (Deep Purple, Uriah Heep), symphonic prog (Yes), prog metal (Dream Theater) and Brazilian folk prog rock (Sagrado). The male vocals are in Portugese and the music is performed with keyboards, guitars, bass, drums and narration in places to explain the concept. Yes, this is a concept album. Not surprise, then.
This one hour long album has all the hallmarks of a concept album too. Unfortunate, a lot of this album slides over to the usual cheap progressive metal cliches. You get gothic female vocals, the usual chugging guitars with riffs we have heard before. There is no really superb songs here either.
When that is said, this is an album well worth checking out because it is really trying to achieve a lot here. It is wildly ambitious. And there are some really great stuff here too inbetween the prog metal cliches which I find dull. Some stuff where the band connect the Brazilian folk prog scene with the symphonic prog scene and creates some great melodies.
The end result is a very good album which I believe is also available as a free download from the link below. If that is the case, get it as it will really please you.
3.5 points
The album