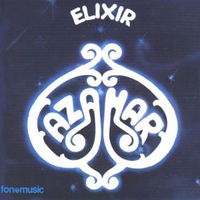 The debut album from this Spanish band and the first of in total two albums.
Azahar was a folk rock band who had some moderate success with their two albums. The music here is a blend of flamenco folk rock, hard rock and symphonic progressive rock. The band use mandolin, guitars in all forms and sizes, keyboards, mellotron, bass, drums and Spanish vocals to create this fusion of Spanish music and the more English prog and hard rock.
The keyboards, vocals and guitars combinations is the main theme that drives this album forward. A strong combination indeed and it gives this album it's identity. The Spanish vocals is also acceptable here. This album very much has this Spanish feel to it and it also feels raw as a raw piece of meat.
This album also sounds a bit dated. I do likes parts of it. I do have to admit there is parts of this album I don't really find that enjoyable. The reason is the lack of any good songs. The album is a bit messy at times too. The symphonic bits is the ones I like best. The rest is a bit boring.
This is only a decent to good album, I am afraid. Maybe I am missing out on something here. But that is my view and rating.
2.5 points