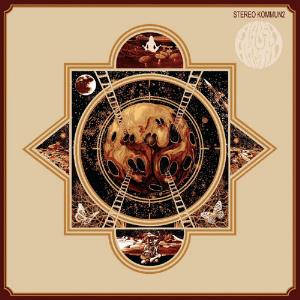 The debut album from this Swedish band.
I do not know anything about this band besides of the information I got from their Bandcamp and Facebook sites.
Their music is a bit untraditional too. Hogtid is an forty-four minutes long instrumental album The core theme here is krautrock. 1970s krautrock. You get a lot of Hammond organs, bass, drums and guitars here. The music is psychedelic and spaced out. It still retain a lot of Swedish folk rock too. All of it from the 1970s. Add some fusion too and you get this. Obvious references are Amon Duul II and Kebnekajse.
The combination for krautrock, fusion and Swedish folk rock is a very potent one. In particular when it is all wrapped into a thick layer of Swedish melancholy. You can smell the large Swedish forests in this music. Hogtid, which means a holy time in Swedish, has a lot of pastoral religious hymn too in it's core. Confused ? Well, this is mostly a krautrock album.
I am not a big fan of instrumental albums. Nevertheless, I really like this very good album. It does lack a killer track or two. This is though a great album and one of the best instrumental albums I have heard for ages. Link below and please check out this album. You will not regret it.
4 points
The album