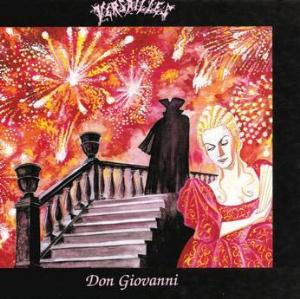 The second album from this French band.
I am not particular surprised that a French symphonic prog band named themselves after the symbol of French bombastic grandeur. Versailles is a very big palace outside Paris with all the mod cons an emperor needed in the 1700th century. It was also the downfall of the French monarchy.
The same cannot be said about this French symphonic prog band. It is more or less the start of phase two in this scene. Ange started to show some form again and other bands followed suit. You can include Versailles and this album too in this new positive development.
The band is following in the good old Ange's footsteps with theatrical French symphonic prog. This is a concept album about the good old charmer Don Giovanni. A man who fathered children all over Europe in his personal conquest of this area's females. Some operas or even only one opera about him followed suit.
A very natural theme for a French symphonic prog concept album, then.
The French vocals is very good. The instrumentation is in the good old Ange mould with plenty of vintage keyboards, guitars, bass and drums. The keyboards sound is very good. Ditto for the blend of pastoral songs and more acoustic songs.
The quality of the music on this one hour long album is not particular great. The album is still full of very good melody lines and snippets. This is my first every meeting with this band and I am sure I will get their three other albums too.
3 points