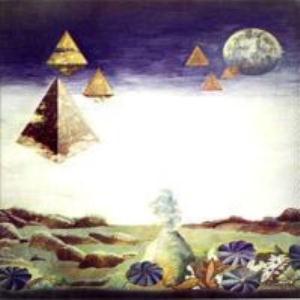 The only sign of life from this short lived US band. One of many bands who released one album and then disappeared again due to lack of commercial success.
Earthrise played US symphonic prog. Well, not really. Their sound had more in common with their English counterparts. Only Cathedral on the US side of the Atlantic Ocean can be compared to Earthrise. Cathedral was again a mix of Gentle Giant and Yes. Which to a great extent also goes for Earthrise.
Take a big chunk of ELP as the start off point. Add Yes and Gentle Giant to the mix and you get this forty odd minutes long album. There is a lot of keyboards on this album in addition to bass, drums, guitars and mandolin of all things. That in addition to vocals too. Keyboards is the main thing about this album though and it goes in the Keith Emerson vein. Classical music in a rock packaging.
I am surprised that this is such an obscure album as it is an album which should have a great deal off appeal to all symphonic prog fans. There is a lot of them around. Of us around, I have to correct myself to. Earthrise is a one heck of a gem and a very good album. My only gripe is the lack of a great track here. Besides of that, this is a very good album.
3.5 points