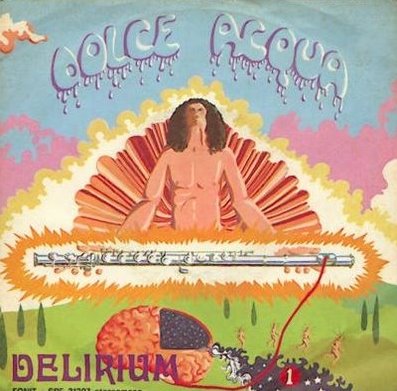 The debut album from this Italian band. This band is not to be confused with the Mexican band of the same name, whose debut album was reviewed some weeks ago.
Delirium from Italy plays very pop orientated Italian prog rock. On this album, at least. You get very poppy Italian vocals with piano, flutes, keyboards, bass, guitars and drums supporting the vocals. This album is also the debut album by Ivano Fossati who also carved out a great career as a singer/songwriter after leaving Delirium after this album. His vocals and flutes on this album is great.
The songs are commercial pop music'ish with a lot of psychedelic, jazz, prog rock, folk and classical music influences. The sound is excellent with a lot of strings arrangements in additions to the instruments above. I am writing this review on a hot summer day and it has been remarked by others here that this is proper summer music. I still think this album deserves a spin or three on cold winter nights too. Nevertheless, I see where they are coming from. This is light and flowery music.
The quality of the music is great throughout. There is no weak moment here on this album. All songs are well worth the price of this album. I have some reservations about the more pop music on this album. Nevertheless; this is a great album.
4 points