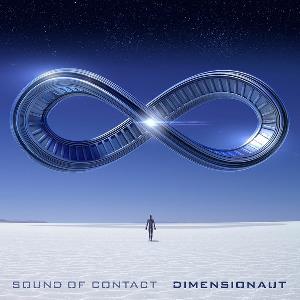 So, this is the debut album from the singing and drums playing son of Phil Collins. I am almost tempted to quote the title of one of Phil's most known songs. But I believe he would be proud of what his son Simon Collins has done on this album. The parentage is pretty obvious on this album. I think it is a safe bet that this album has been going on pretty heavy rotation in Phil Collins home.
To get straight to the case; Dimensionaut sounds like the mid-era Genesis. Between the symph prog era and the final Tamla Motown era. The Duke and Acabab era. Add the 1990s Marillion era and some straight rock to the mix and you have this album. Something you would not believe when putting on this album for the first time. The album starts with a Rush riff. Not a riff they have stolen from Rush. But still a Rush sounding riff. And yes, Rush anno the 1990s should be added to the major influences of this album too.
The sound is excellent and contemporary anno 2013. Herein lays my problem with this album and why it has divided the prog rock community into to warring polar fractions. Between those who hates this album and those who loves this album. The sound and music is so full of cliches and soundbytes taken from other bands. The semi-acoustic guitars used as added texture dulls down the music. Ditto for the pling plong synths and the electric guitars. Simon Collins has a great voice and he largely sings like his father without having the Tamla Motown voice. But the generic rock sound is really annoying. Ditto for most of the songs which is a bit on the cheap and generic side of the spectrum. There is a lot of building up great moods here and then sing a long choruses. This album have a soul just like any surgically enhanced human being have a soul. But it is hard to see past the skin, the exterior of this album.
There are some great melody lines and songs here, though. The seventy-four minutes long album offers good value for money. It is such a pity that these seventy-four minutes is so full of overly used cliches and shallow generic material. I still think it is a good album though. But it is not living up to the hype it was sold to me on. It very much dissapoints in this respect and I guess the hype is the downfall of this album.
Nevertheless, this is a good debut album.
3 points