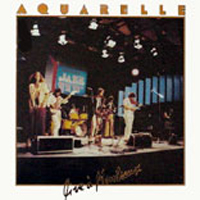 Their live album after releasing their one and only studio (self-titled) album the year before.
This live album is not live versions of their studio album songs. All compositions here are new and not recorded in studio. Which is a bit odd as they were invited to this famous jazz festival (still ongoing, btw) on the strength of their studio album. Anyway, this makes this a much more interesting live album.
The sound is reasonable good. The music is Quebec fusion with some Canterbury influences. A bit quirky in other words. The music is performed with violins, woodwinds, female vocals, keyboards, guitars, bass and drums. Yes, there are some female vocals here. This is not a vocals driven album though. They are used as an instrument.
The music is pretty quirky throughout. It is fusion though and pretty melodic. They also sounds a bit like Mahavishnu Orchestra at times. It is a pity that the band gave up after this live album as they were a very good band. Despite of a bit iffy sound, I quite enjoy this good album. If only they had continued.......
3 points