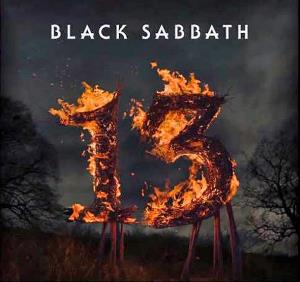 The surprise of the year, so far.
13 is rumored to be the final ever Black Sabbath album. It is also their twentieth album. Not all of these albums deserves the Black Sabbath moniker. The Black Sabbath name was become a bit of a tired joke with albums like Tyr, Forbidden and Born Again. I am therefore delighted with the return of Osbourne, Iommi and Butler in fine form. Bill Ward declined the invitation though and that meant this is not really a reunion of the classic Black Sabbath lineup. But in reality; this is a reunion of the 1970s lineup.
This lineup has also reunited with the sound and music which made them such a great band in the early 1970s. These days, this is called stoner rock. 13 is a stoner rock album, released by the band who invented stoner rock. That is the best thing about this album. It is unbelievable heavy. It is an unbelievable rip-off of their old albums. If any other bands had released this album, I am sure everyone would had screamed "theft". But this is Tony Iommi, Geezer Butler and Ozzy Osbourne having a final look at the streets that once made them the kings of the town. That was forty years ago. Forty-three years ago, to be precise.
Being an unashamed rip-off, there are unfortunate no Iron Man, Paranoid or even any songs in the same class as their masterpiece War Pigs. God Is Dead is the best Black Sabbath song since the Ronnie James Dio era. The other tracks is also good on an album which really surprises me and that in a positive sense.
It is nice to hear Tony Iommi, Geezer Butler and Ozzy Osbourne doing songs where they really stretches themselves and makes one heck of an effort. If this is indeed their final album, they could not had gone out in any better way.
4 points