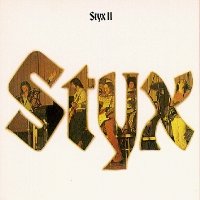 The second album from this US band.
The band was a five piece band on this album with a lineup of synth, piano, organ, bass, drums, guitars, drums and vocals.
I was not that impressed by
their self titled debut album
from 1972. My first ever meeting with this band and their music. Read the review above for my impressions of that album.
The band returned the year after with an album which Styx fans does not rate highly. It is among their more forgotten and ignored albums.
I can understand why.
The music here is a mix of psychedelic, blues, hard rock and pop music. The music sounds a bit wild and raunchy with several full on guitar attacks too.
Styx got a hit in the three minutes long ballad Lady. A pretty good song. My favourite song here is the seven minutes long Father O.S.A. A good song with a good theme.
The rest of this thirty-five minutes long album is rather second rate and throw-away stuff. The band did not really know what they were going on this album and that shows. I can agree with their fans here.
This is another decent album and nothing but that, I am afraid.
2 points