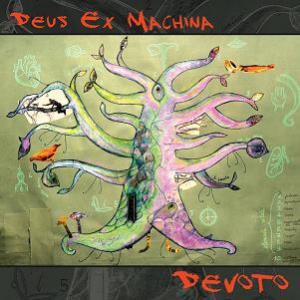 The seventh album from this Italian band.
The band is a six piece band with a lineup of guitars, drums, bass, violin, organ, piano, synth and Italian male vocals.
This is really a band which I should have checked out much earlier. Many years ago in fact. But for some reasons, I have not done that. I got absolute no idea why.
Deus Ex Machina has always been in the fusion/jazz genre. See their
profile at ProgArchives
. But much more in the eclectic end of this spectrum than in the easy listening part of this genre.
I have heard from ProgArchives that Devoto is a much more easier on the ears than previous albums. I wonder what their other, far more eclectic albums has been compared to Devoto.....
Devoto is still far from being an easy-listening middle of the road fusion/jazz album. This album is still eclectic and is leaning very much towards the likes of Area and Picchio Dal Pozzo. I find a lot of Picchio Dal Pozzo in this album.
The vocals here are good enough and is in the good Italian tradition. I also very much like what the other musicians is doing. The violin adds a lot of xtra cream to this creamcake. A lot of style and flair.
The music on this one hour long album is eclectic and very much leaning on the avant-garde genre too. Eclectic prog is what I would label this album.
And it is a very good album too. I really like this album and I should really check out their other albums too. It is on my to-do list. Check out this album.
3.5 points