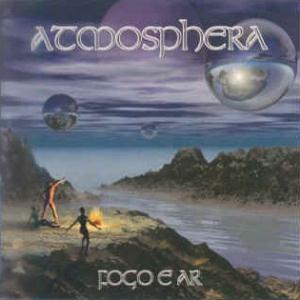 The one and only album from this Brazilian band.
The band was a five piece band with a lineup of guitars, keyboards, bass, drums and Portoguese vocals. A guest musician provided flute.
Atmosphera was one of those few Brazilian symphonic prog bands who were just bubbling under the surface, not getting much attention. The year was 1998 and progressive rock was not that popular. That changed some years later with the emergence of ProgArchives and some other prog rock blogs and websites.
But
Atmosphera
was before their time and died before they had the chance to really shine. Which is a great shame...
Fogo E Ar is mostly an instrumental album. The very few vocals here are very good. But most of the music on this one hour long album is instrumental.
Genre wise, they are most certainly Brazilian. Rousseau and Tempus Fugit is two good references. And so is Camel too. The guitar runs reminds me a lot about Camel. So does the music too. But their Brazilian heritage shines through and there is also a lot of Brazilian folk rock here.
Most of this album is very pastoral and softly spoken with plenty of acoustic guitars and soft keyboards. There is a lot of Brazilian ambience here. A lot of Brazilian culture.
The end result is an interesting, good album which makes me wish for more from this band. But that will never happen. But the band has left a good legacy. Check it out.
3 points