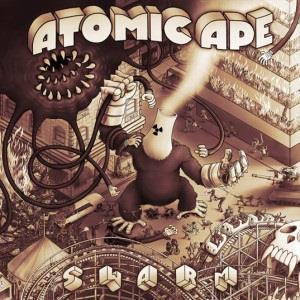 The one and only album from this US band.
Atomic Ape is really only Jason Schimmel (Estradasphere, Orange Tulip Conspiracy, Secret Chiefs 3) and lots of other musicians. The lineup is drums, bass, strings, synths and woodwinds. 25 different instruments or so. The music is instrumental.
This is a scene I am familiar with as I am not spending as much time on avant-garde and RIO as I should be doing. I should really dedicate myself more to this genre.
Atomic Ape has produced a forty-four minutes long piece of soundtrack for a quirky movie which nobody has filmed/made. This is officially not a soundtrack. But it feels like it.
The music is pretty jazzy
klezmer
. The music also has this folk rock and RIO feel too. The music is at times pretty much chamber music.
The music is mostly acoustic with a wide variety of instruments. Most of them very exotic and exciting for an ear who is most used to rock'n'roll instruments. This is a bit alien, but still a very good experience to me.
The music is much more electric towards the end of this album with some electric guitars chiming in with some harsh riffs. Not too bad, that too.
The music is pretty melodic throughout without loosing the complexity and the avant-garde feel. All in all, this is a good album which I have really enjoyed. But the quality is also here and this is an album well worth checking out.
3 points