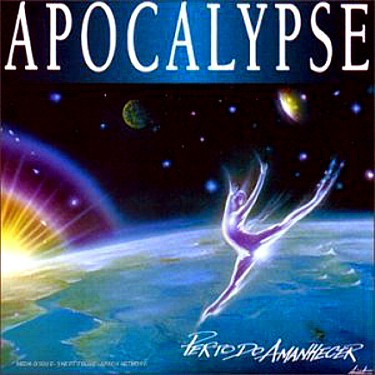 The second album from this Brazilian band.
The band was a quartet with a lineup of synths, guitars, bass, drums, piano, organ and male Portoguese vocals.
I pretty much liked their debut album,
reviewed
earlier this month
(January 2017). So I was looking forward to this album too. I am reviewing/have reviewed all their albums and am looking/was looking forward to this.
Perto Do Amanhecer is said to be one of their best albums,
according to ProgArchives
. And the album is starting really positive with the two opening tracks Ao Cair No Espaco and Terra Azul. Good South-American symphonic prog with two really strong melodies.
Then something really strange is happening. The album falls down to a lot of neo-classical guitar solos and a lot of pointless plodding. Some of this is really appaling bad. So bad that I really want to turn of this album and put on some good music instead.... by other bands.
It has taken me three weeks to really come around to review this album and give it a lot of more chances. So appaled was I. But thankfully, the band pulls this album together again with the rather good Lagrimas and Corta. Both are good neo-prog songs. Very much Fish era Marillion here.
The rest of the album is rather good too and I am getting a lot more friendly with this album.
The end result is an appaling bad to a very good album.
But I cannot overlook the terrible middle section on this almost seventy minutes long album. Hence my rating.
2.5 points