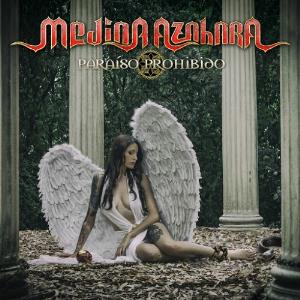 The 18th album from these Spanish legends.
The band is a five piece band on this album with a lineup of guitars, keyboards, bass, drums and Spanish vocals.
Medina Azahara is legends and a national institution in Spain. Their first album, a self titled album, was released back in 1979. The vocalist Manuel Martinez has been the vocalist on every album if I am not much mistaken.
They are listed as a symphonic prog band
in ProgArchives
. That is not a correct label although the band started out as a symphonic prog band on their first album. Medina Azahara has mostly been a hard rock band, touching over to heavy metal on several albums.
The band is most of all a Spanish band who carries the Spanish soul with them. A soul incorporating the various nations which is Spain, a confederation of various nations.
Manuel Martinez gives Medina Azahara their soul and identity. The music is hard rock with some Arabian, Spanish folk music and Spanish pop influences.
The music is being lead by Manuel Martinez vocals with a lot of chugging guitars and keyboards too. The bass and drums is pretty sharp too. But Manuel Martinez is the star here. And his, very untraditional vocals, is a joy to behold.
And the music is pretty commercial too and is not the type of music I should like. But I find this band and their music very charming. My, by default, grumpiness towards this type of music is being disarmed.
There is a lot of quality in this album too and it should be checked out although this album is as cheesy as a dairy farm. I give it a good rating.
3 points