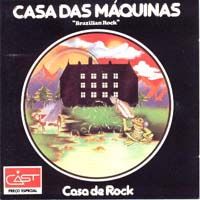 The third and final album from this Brazilian band.
The band was a five piece band on this album with a lineup of guitars, bass, drums, percussions, minimoog, piano and male Portoguese vocals.
I pretty much liked their 1974
self-titled debut album
and their second album, the 1975 opus
Lar De Maravilhas
. The latter one is regarded a classic in Brazilian and South American progressive rock.
The band returned again the year after with a stripped down version of themselves.
Gone is progressive rock from last year's Lar De Maravilhas. Gone is their charming folky hard rock from their self-titled debut album. Casa De Rock is a much harder album. It is more or less a heavy metal album.
The genre Heavy Metal was not properly created until 1980 in my view. I am referring to Iron Maiden's debut album which was a mix of punk and 1970s heavy metal. But Casa De Rock is a very hard album. It is also a bit cynical album.
Inbetween this heavy metal, there is also some very soft psychedelic stuff here. I would not call this ballads. I would label it as pop music.
This album sounds like the band's final throw of the dice. And the band broke up after that. The reason is in my view the lack of quality of this album. This album is not a turkey. But it is not even a decent album. Only some of the heavy metal and some of the psychedelic pop stuff saves it's bacon. I am not impressed by this album, by far their weakest album.
1.5 points