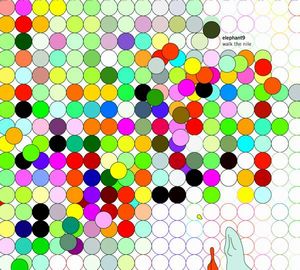 The second album from this Norwegian trio.
The band's lineup is keyboards, bass and drums.
Elephant9 was a offshot of the Norwegian bands Shining and Supersilent. Both of them pretty jazzy. Shining plays blackjazz. A sort of a fusion between black metal and jazz. I should really review their albums one day. I am not so sure about Supersilent, though.... But there is a lot of really great music coming out of Norway.
Elephant9 is most known for their two albums with the Swedish guitarhero Reine Fiske. I reviewed their first coop album
Atlantis here
. A great album. I also reviewed the first ever Elephant9 album
DodoVoodoo here
. A very good album.
We are in the middle of the jazz and fusion land here. Very avant-garde at times. But still pretty melodic. Walk The Nile starts out almost as a RIO album with lots of desperate dark and black keyboards infused walls of sound. Very claustrophobic and inhostipable. Very good too.
The album opens up a bit after a while and the rest of this forty minutes long album is pretty open and not so dark. But this walk down the Nile is not a walk in the sun. There is a lot of darkness and dangers during this walk, figuratively speaking.
I would not rate this album as good as their debut album DodoVoodoo as the quality is not that great here. But there is a lot to take from this album. Elephant9 is for me a great discovery and one band to follow. I really like what they are doing although I would only rate this as a good album.
3 points