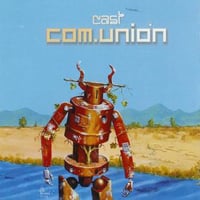 The 15th album from this Mexican band.
The band was a seven piece band on this album with a lineup of bagpipe, saxophone, flute, guitars, bass, drums, organ, mellotron, piano, synths, percussions and Spanish vocals.
I have done a lot of reviews of their, so far nineteen albums, as I really like this band. See my other reviews of their albums.
Cast is nominally somewhere between symphonic prog and neo-prog........ nominally. They have gone in many directions on their various albums.
Cast is going into many different directions and territories on this album. It is one of their most diverse albums as far as I gather (I have not had the pleasure of listening to all their albums).
There is faint hints of neo-prog here. But the symphonic prog part of this band is pretty much in command. From symphonic prog, they have moved into pop music, rock, prog metal, folk rock, cinematic music and some jazz.
There is a lot of things going on here. From female vocals and choirs to more instrumental ambient pieces. There is a lot of instrumental ambient pieces here.That makes this album a pretty ambient album with not many heavy pieces and songs.
This album is one of those long Cast albums. It is another seventy minutes long Cast album. Which means a lot of value for money and a lot of dead weight songs and pieces of music. There is not that many of these seventy minutes which constitutes a great symphonic prog album. Let alone a good symphonic prog album. The standards is slipping on this album.
The standards is so low that this album is only somewhere between decent and good. It is too long and carries too much dead weight. Check out this album if you want softly spoken music from a great band.
2.5 points