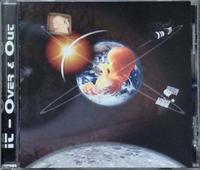 The third album from this UK band.
It was a quartet on this album with a lineup of guitars, bass, drums and vocals. Guest musicians provided female vocals and wailing, samples, percussions and keyboards.
The band is run by Nick Jackson who is their guitarist and vocalist. I have reviewed their debut album The Stranger Inside The Self
here
and their second album Two Worlds
here
.
It is.... well, was a neo-prog band on their first two albums. Neo-prog leaning towards Pink Floyd, the David Gilmour era on the debut album and leaning a lot more towards Pink Floyd on their second album.
Over And Out sees the band completing this journey from neo-prog towards totally adopting Pink Floyd, the David Gilmour era.
When that is said, there is also a lot of The Wall (yes, still Pink Floyd) too. There is a lot of the same concept and the same type of samples. There is also some space rock here.
But the main body of this album is the latter days Pink Floyd. Division Bell and A Momentary Laps Of Reason. The songs are different though and the music has not been copied over from Pink Floyd. But you get their package with wailing female vocals and some distorted male vocals.
The samples takes too much of the opening minutes and the listener soon loses interest. The final half is a lot better.
The songs are not too bad. But they are still not great. Most of them are not even that good. Or good at all. The Pink Floyd references comes thick and fast.
The result is somewhere between decent and good. Pink Floyd fans will lap up this album, though. Check it out if you can.
2.5 points