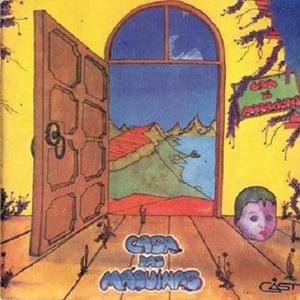 The second album from this Brazilian band.
Casa Das Maquinas was a five piece band on this album with a lineup of guitars, minimoog, synths, piano, drums, percussions, bass and Portuguese vocals.
I was not a big fan of their
self-titled 1974 debut album
. I did find it a pretty charming album, though. But still lacking a lot in quality.
Lar de Maravilhas is rightly or wrongly regarded as a classic South American progressive rock album. One that set some standards other bands aspired to.
And I can understand why. The band has kept most of their charming sound from their debut album and slowed down a lot. Gone is their hard rock. In comes music that reminds me a lot about Genesis and Yes. Genesis and Yes but still with the Casa Das Maquinas take on symphonic prog.
The music is mostly, with one exception, very gentle and pastoral. But there is also some more Yes dynamics here.
The very good vocals sets this band a part. But their use of minimoog is also very good. They use minimoog a lot here.
There is no great or even very good tracks on this forty-four minutes long album. But the music is ticking over very nicely and this is a good album indeed. It sounds dated and it is perhaps not the standard bearer as it once was. But this album is very much worth checking out.
3 points