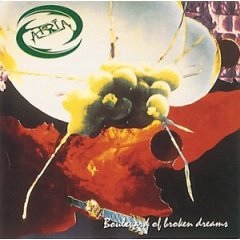 The debut album from this French band.
Atria was a six piece band on this album with a lineup of guitars, keyboards, bass, drums and English vocals.
I reviewed their second album, the 1996 album Hide back in May 2010
for ProgArchives
. I noted that it was a good album and the band was very similar to Pendragon.
That too also goes for their debut album. Both their albums are pretty similar, in fact.
In 2017, this is very much retro neo-prog. In 1992, it was very much the current sound. Take Pendragon with some Eloy mixed in and you get this album.
There is a subtle but still a very much noted difference. Boulevard Of Broken Dreams is a pretty heavy album. Far heavier than both Pendragon and Eloy has ever been. So you can add some progressive metal, make that, a substantial amount of progressive metal into the mix.
The songs are pretty long here. Long as in just short of ten minutes long. That on this sixty minutes long album.
The vocals is pretty good. The guitars are very good. The music a bit too standard run of the mill neo-prog for my liking. I still regard this album and this band as one of the more hidden gems in the neo-prog scene. Check them out.
This album though is somewhere between decent and good.
2.5 points