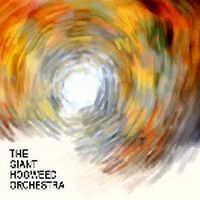 The one and only album from this Finnish band.
The Giant Hogweed Orchestra is/was a five piece band with a lineup of guitars, bass, drums, percussions and flutes. Three guest musicians added didgeridoo, Moog and trumpet.
For some reasons, I expected a Genesis like tribute band when I put this album on for the first listening session. I was wrong. Very wrong. Genesis is nowhere to be found here.
What we get here is some instrumental jazzy psychedelic space prog. There is also a lot of post rock in their music.
There is no wild space rock excursion into outer space here. The music is very pastoral.... most of the times. Sometimes, this album also explodes like a Porcupine Tree track. The music here can be very heavy at times. But it is mostly very pastoral as in Pink Floyd.
There is also some symphonic prog on this album. Mostly on the nineteen minutes long Halogen. A good track which opens with some flutes. The flutes are in general very good here.
The guitars, both the electric guitars and the half-acoustic guitars are the stars here. They are really driving the music forward. The occasional moog and trumpet is also adding a lot of quality here. The rhythm section is also delivering the goods.
The end result is a good album which has a lot to offer to symphonic prog, space rock and post rock fans. I really hope we will hear more from this band.
3 points