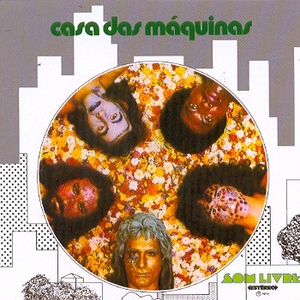 The debut album from this Brazilian band.
The band was a five-piece band on this album with a lineup of percussions, drums, guitars, piano, minimoog, bass and vocals. Portuguese vocals, that is.
The band
, which means engine room in English, was a pretty short lived band who released three studio albums between 1974 and 1976. I believe they are all available at Youtube so check them out and find out if you agree with this and the upcoming reviews of their two other albums.
The band is regarded as an important band in the history of Brazilian and South American rock and prog rock scene. I do not know why as I am no expert in these matters.
This album is a pretty much straight forward hard rock album. Hard rock whose not too hard and not too heavy. We are not talking Black Sabbath here. We are more talking gentle hard rock. Hard rock in the southern rock vein. Or in the RPI vein.
But their brand of hard rock is pretty unique. Or perhaps this is South America's take on hard rock. Twenty years later, the likes of Sepultura turned that scene upside down.
I have to admit I have more a soft spot for Casa Das Maquinas these days than Sepultura. The music on this thirty-two minutes long album is pretty folky and jazzy gentle with some sporadic hard rocking guitars. I am charmed by this album.
That said, this sugary album is only a decent album as it falls a bit flat on it's face anno 2017. It is still an album well worth checking out. With or without a cheeky grin.
2 points