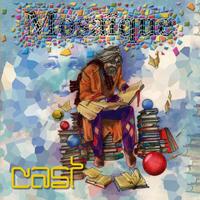 The 14th album from this Mexican band.
The band was a twelve piece band here, including some guest musicians. The lineup was most instruments you can think off. That includes strings and woodwinds. There is also some male and female vocals here.
Eighty minutes. A double CD. The usual fare from a band like Cast. And Cast is one of the best symphonic prog bands, post the 1970s.
Wikipedia has described mosaic as "
A mosaic is a piece of art or image made from the assemblage of small pieces of colored glass, stone, or other materials.
"
In the case of this album, that is true too.
The album starts out as a good symphonic prog album with a lot of neo-prog influences. That is before the album moves into a vast jungle of pop music, folk-rock, jazz, latin rock, rock, prog metal, fusion, opera, avant-garde and classical music.
The vocals are all in Spanish and that is good. The music has a solid grounding in the Mexican scene too.
Nevertheless, the result is some disjointed eighty minutes. The quality is not the best either. I am all for variations and taking chances. And Cast is taking some gambles here. But I am all for gambling if the quality is there. And the quality is an issue here. The lack of it, that is.
There are some good stuff here and some decent stuff here. Hence my rating for an album I don't think we should remember Cast for.
2.5 points