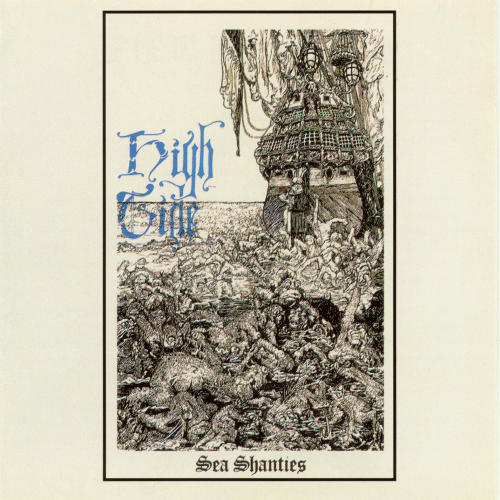 The debut album from this British band.
The band was a quartet with a lineup of piano, guitars, bass, drums, violin and vocals.
High Tide is one of those largely ignored hard rock bands in the British scene. They were never a fancy, popular band who appealed to the masses. One of many bands in that scene. They managed to released seven albums between 1969 and 1992 before they gave up the ghost.
If the artwork and gothic logo and letters forewarns us that we are in for a heavy album, the artwork is spot on. This album is hard rocking. The kind of letters and logo in the artwork has been copied and used by numerous heavy, speed, thrash, black and death metal bands.
The music here is really hard rocking and not so much sea shanties. The two first songs, Futilist's Lament and Death Warmed Up, is as heavy as I have ever heard from any albums anno 1969. Far heavier than Black Sabbath. Heavy, hard..... but not doomy and cataclysmic as the Black Sabbath's debut album.
The album becomes a bit more melodic after this. The violin is everywhere and adds a lot to the sound and songs. Even at it's most heavy, the violin adds a lot of extra value and quality.
The vocals and the guitars is the main positives here. Both done by Tony Hill.
In the middle of this forty minutes long album, we also get some baroque'esque music. This is not only a hard album. It also have some good pastoral harmonies although most of this album is really hard rocking.
The end result is a decent to good album. A bit too hard for most people. But still pretty interesting and well worth checking out.
2.5 points