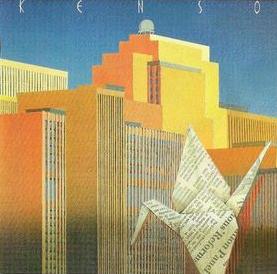 The third album from this Japanese band. A band who has so far released ten albums.
Kenso was a five piece band on this album with a lineup of woodwinds, synths, bass, drums, mellotron, kalimba, autoharp and guitars. There are some wordless vocals here too. The band also got help from numerous guest musicians on this album.
This is my first ever exposure to their music. I have heard about this band for a while. They are one of the leading jazz/fusion bands in Japan, I have heard. And that may be true.
What we get here is melodic fusion in the 1980s slick and stylish vein. Plenty of funky bass and synths is driving the music forward. The piano is busy and the guitars adds a lot of textures to the music.
This is by no means particular exciting music. But it is good music and this is a good forty minutes long album. A bit more bite and quality would have been preferred. Nevertheless, this is what it is and it is a good album.
3 points