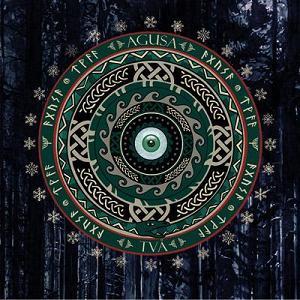 The second album from this Swedish band.
Agusa is a five piece band with a lineup of flute, Hammond organ, bass, guitars and drums. The music is entirely instrumental.
I really liked their 2014 debut album Hogtid which was a very refreshing take on instrumental folk rock influenced prog rock.
The band has continued down the same path on this album too. Two Swedish folk tunes is getting long workouts. Eighteen to twenty-one minutes long workouts, to be precise.
The first song here, Ganglat Fra Vintergatan has a great start before it starts to repeat itself throughout the twenty-one minutes. It sounds great to begin with. But as it is mostly a folk rock tune, it outstays it's welcome by at least five minutes.
The second song Kund Bores Dans is not that immediate. But the acid space part halfway through these eighteen minutes is pretty good.
I am not sure these two folk tunes was the best choice either. I have heard them in their original versions as they are common fare in Scandinavia. Any version of them are old news and does not feel fresh. More obscure folk tunes would had been a better idea.
Nevertheless, this is a good album well worth checking out. Agusa is a band well worth following.
3 points