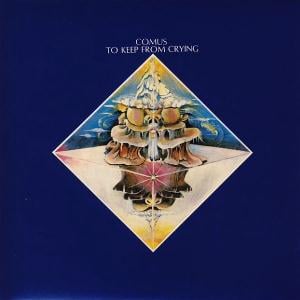 The second album from this English band.
The band was nine piece big and it included the Gong member Didier Malherbe on saxophone. The other instruments was male and female vocals, guitars, bass, drums, keyboards and cello.
The band really never got any breakthrough in their lifetime. It was only during the second coming of progrock around year 2000 the band got a breakthrough, long after they had broken up. They released their third and final album in 2012 named Out Of The Coma.
To Keep From Crying is the follow up to their debut album and semi-classic First Utterance from 1971. It is also a total clean break from that album.
What we get here is fifty minutes of reasonable light psychedelic folk rock. A bit West Coast and a lot of folk rock is what this album gives us. The music is pretty decently covered by instruments and we are nowhere near simple, downtuned folk rock. The music here is actually pretty lush.
The female vocals is pretty much everywhere and they are a bit over the top. A bit insane and very psychedelic.
Lush without really offering any good music at all. It is a decent enough album with some decent songs. Nothing here really interest me, I have to admit. Hence my verdict.
2 points