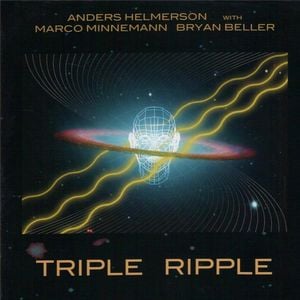 The third album from this Brazil based Swedish keyboardist.
I believe this is the first Anders Helmerson album I have ever reviewed or ever heard. I believe I got his 1981 debut album End Of Illusion on a file somewhere.
Anders Helmerson (all synths) has got with him the much traveled drummer Marco Minnemann and the bassist Bryan Beller on this album. Adrian Thurston does some spoken words here.
This whole one hour long album has got a space traveler concept. Well, it feels like it. This is by no means a space rock album. But it has got some ethereal space rock influences.
The main music here is a mix of symphonic prog, prog metal and fusion. I would label this as a bit of a fusion album. The music is a bit busy and intense at time. The drummer and the bassist is very busy and is having to work hard for their money. So does Anders himself. This is by no means an easy listening album.
The end result is a decent to good album. The opening piece of music, the fourteen minutes long Touchdown is a good piece of music. The album tails of at the end and the music becomes a bit too predictable. That is my main gripe with this album. Hence my rating... which I am upgrading to a good reward.
3 points