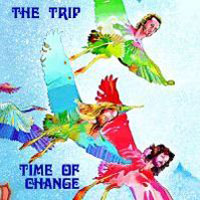 The fourth and final album from this Italian band.
The band was now reduced to an ELP like trio. And they sounded like that too at times. Take ELP, Yes and Le Orme. That is when you get the first twenty minutes long song Rhapsodia on this album.
Rhapsodia is the highlight of this album too with this very Yes inspired epic. The album falls a bit in quality after this. The rest of this forty minutes long album is a mix of lounge jazz, symphonic prog and proper jazz. The jazz bits comes in particular from the drummer Furio Chirico who later joined Arti E Mestieri if my memories serves me right. His drumming is very jazzy. The keyboardist Joe Vescovi and the bassist Arvid Andersen is keeping it all together.
I get the feeling that I am listening to an Italian version of an ELP album. But this is still The Trip and they have their own style. I am landing on a weak three pointer here on this, their weakest album.
3 points